'

Capturing our Catchment

' A

rt

C

ompetition

- A Huge Success!
Artwork by The Marian School
The Creek to Coral Programme, supported by Townsville City Council in partnership with the Perc Tucker Regional Gallery, recently organised a school and community environmental art competition. The theme of the competition was 'Capturing our Catchment' – where students and community members showcased our regions catchments and expressed how they are affected by human activities such as agriculture, grazing, industry and urbanisation.
Many students participated in Creek to Coral Eco-Catchment Education Tours of our area, which showcased some of the major features of our area including Castle Hill, Ross River, Cleveland Bay, Ross Dam and the Town Common. Following the catchment tours and with the willing support of teachers, local artists Madeleine Challender, Kath Cornwall, Emma Hill and Elly Murrell helped students develop artworks for public display. The competition was a great success with 11 local schools and the community group Kith and Kin Association contributing artwork for concurrent exhibitions at the Perc Tucker Gallery and The Knowledge Center (Northtown) during August and September, organised by Marg Naylor at the Gallery.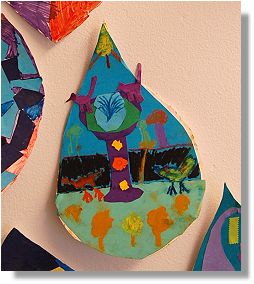 'Water Through the Trees' - a sample of the winning Artwork by Wulguru State School's year 3CL class
The winner of the competition was Wulguru State School's year 3CL class with their collection titled 'Water Through the Trees'. The teacher of Class 3CL, Leann Clausen, encouraged her students to design their own collaged raindrops that represented places where water could be stored and how we as a community could help save water. In an award ceremony held at Wulguru State School, Cr Tony Mooney congratulated students for their efforts in raising awareness about the importance of water conservation and presented them with a fish tank and a $100 voucher to buy native fish.
The "Capturing our Catchment' Competition was an excellent opportunity for students and community members to showcase their artwork and gain insight into the importance of conserving our local waterways, rivers, creeks and wetlands, and we are pleased that so many took the opportunity to join this contest. We look forward to more participation from students and other community groups in our programmes during 2008!