Townsville City Council Erosion and Sediment Control Training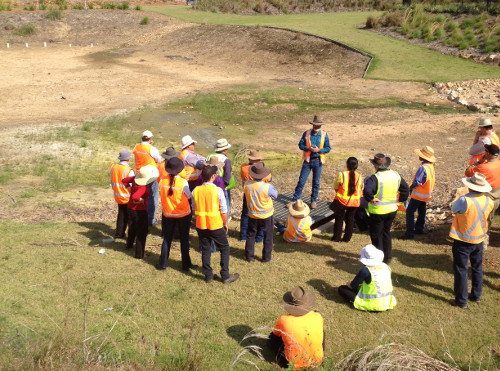 Due to the generally poor soil condition in the Townsville area and the proximity to the Great Barrier Reef, Erosion and Sediment Control is an integral part of the protection of our world heritage reef. To provide more information and build the local knowledge and expertise, a comprehensive training package has been developed by industry leaders in soil science, re-vegetation and water management in Queensland.
Towsville City Council runs these
International Erosion Control Association
(IECA) endorsed training courses on a cost recovery basis with many hours provided by staff and professionals in-kinde. This greatly reduces registration costs compared to similar training courses in Australia.
Basics/Fundamentals Training course (3 Days) - Site Supervisors
This training provides the necessary information, tools and tips needed for site supervisors to meet the regulatory requirements of Townsville City Council (TCC) and the Department of Environment and Heritage Protection for Soil Erosion and Sediment Control (SESC) in Townsville, as well as providing regulatory staff with a detailed insight into what to look for, how to assess and address issues.
Advanced Training course (3 days)- Suitably Qualified Person
Coordinated by Townsville City Council, this course provides the necessary training to design, implement and assess Soil Erosion and Sediment Control Plans (ESCP's) in North Queensland. The course is accredited by Townsville City Council and if successfully completed, will provide a local certification number indicating they are a 'Suitably Qualified Person'.
Sediment Basins for the Dry Tropics Demonstration Day
A new session has been launched in 2017 to highlight the importance of sediment basin sizing, operation & maintenance and design. This session will include practical information and will be conducted on site at the new Erosion and Sediment Control Demonstration Site.
Please click here for our expression of interest form.
Erosion and Sediment Control Resources:
Please visit the
Catchments and Creeks website
to view or download the most up to date documentation. This includes the newly released "Erosion and Sediment Control Field Guide for Builders"
In alignment with State Planning Policy 4/10 for Healthy Waters, all ESCP's submitted to Townsville City Council as of the 1 March 2012 are required to be endorsed by a 'Suitably Qualified Person' quoting your accreditation number.